Hardwood
floor sanding

and


floor installation

south shore

of Montreal

Plancher SMNR's specialty has been hardwood floor sanding and installation for the last 10 years. Our team is made up of experienced professionals who pay careful attention to cleanliness. We are experts in our field and we use the best hardwood sanding and installation methods.

Once the sanding is done, our experts do the floor staining and finishing. We are the best in terms of hardwood sanding, refinishing or installation.

We have a personalized approach for all our customers, that takes their tastes and budgets into account. Installation is perfect and the finish is immaculate, so that you may comfortably enjoy your new floors for years to come.
Sanding a floor without any dust is possible!
Everyone remembers the days when sanding a floor produced dust throughout the house.
Nowadays, there are sanding techniques and equipment that remove dust at the source! Our experts use powerful high performance vacuums with Hepa filters that capture and hold up to 99.8% of the dust.
Our experts' know-how and the modern facilities they use allow them to reduce dusty residue to 0.2%.
This allows for optimal protection of your furniture and living spaces. It's a good investment!
You simply need to cover your furniture, furnishing accessories, electrical appliances, and that's it!
The dust-free sanding technique is ideal for people with allergies, as it allows eliminating 99.8% of the dust produced.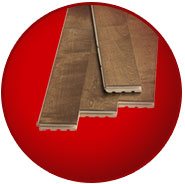 to refinish your old floors
or to install a new one